What to Do If You Are a Pedestrian That Was Struck by a Car?
March 28, 2023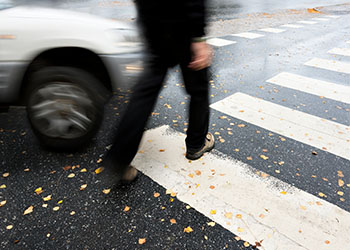 Pedestrian accidents are an unfortunate part of life. According to CDC data over 7,000 pedestrians died due to motor vehicle crashes in 2020. This figure underscores why filing a wrongful death claim can help families begin to move on from a devastating loss.
You don't have to go through this alone, and whether you are a pedestrian hit by a car or you are seeking liability for a loved one, The Stutzman Law Firm, PLLC is committed to standing by you during every step of the way when filling a personal injury or wrongful death claim in Flowood, Mississippi. The people in neighboring areas, including Brandon, Clinton, Pearl, Richland, and Rankin County, can count on The Stutzman Law Firm to be there for them.
Steps to Take
After suffering from a personal injury as a pedestrian, there are various steps you will need to take as you seek liability/fault in a pedestrian accident. Gather all of the documentation that you have, including police reports and photographs. You might also have medical records that can be used in any insurance claims. After gathering all of the important documents, you will need to contact a pedestrian accident attorney to guide you through the process of filing a personal injury claim.
If your loved one was involved in a pedestrian accident and was killed, you may want to file a wrongful death lawsuit to receive compensation to cover damages. Wrongful death lawsuits can be filed by immediate family members, including distant family members. Contact an experienced personal injury attorney to assist you in making a wrongful death claim.
Determining Liability
Liability is determined based on several factors and is determined on a case-by-case basis. Every case is different and considers the pedestrian's liability, the driver's responsibilities, and other circumstances that may affect the determination.
Pedestrian's Liability
While pedestrians might believe that they have the right of way at all times, this isn't always the case. As a matter of fact, by law, pedestrians are expected to yield to ongoing traffic during certain situations. Pedestrians can't simply run across the street whenever they like and can be held responsible for accidents as well.
Driver's Responsibility
All drivers are expected to drive responsibly, and if at any time they are driving recklessly or under the influence, these factors will be considered to determine liability. Also, negligence can play a part if a pedestrian has the right of way.
Other (Hazardous Circumstances)
If the accident was caused by a hazard on the road, the responsibility and liability will lie on the government employee who didn't properly inform the public about the dangers on the road.
Similarly, if there was an issue with the vehicle, the manufacturer or distributor may be liable for its product not performing efficiently.
Fault Determination
To find out who receives compensation for damages and injuries, a process called fault determination is completed. Mississippi is a comparative fault state. This means that the driver will always compensate the pedestrian, regardless of the pedestrian's level of fault. In a comparative fault state, as is Mississippi, depending on how at fault a pedestrian is, the compensation will reflect that.
Statute of Limitations
It is important to be well-informed about the statute of limitations surrounding pedestrian accidents. In Mississippi, the statute of limitations requires that individuals file a personal injury claim no more than three years from the date the accident occurred.
Seek Fair Compensation
To better understand your options and the process of filing a personal injury claim, you can contact a pedestrian accident attorney who will help you seek the fair compensation you deserve. Every situation is different, but when you talk to someone who is experienced in the field, you can gain valuable insights into your particular case and have a better idea of what compensation will look like for you. Ronald E. Stutzman, Jr. Is here to help you seek fair compensation for your pedestrian accident or the wrongful death of your loved one.
Turn to a Dependable Personal Injury Attorney
Ronald E. Stutzman, Jr. works hard to ensure every client gets the compensation they are entitled to. Having been through a personal injury claim alone, Ronald E. Stutzman, Jr. understands how challenging it can be and is committed to giving customers the guidance and understanding they need during such difficult times.
Call Ronald E. Stutzman, Jr. At The Stutzman Law Firm, PLLC, today to get answers to all of your personal injury questions in Flowood, Mississippi. Don't go at it alone. Get the help you need from an experienced attorney today.