Truck Accidents and Wrongful Death
April 3, 2023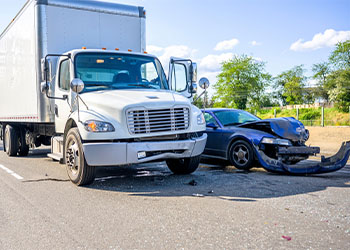 Due to their huge sizes and heavy weights, accidents involving large trucks, 18-wheelers, semi-trucks, and other automobiles are often severe or fatal. Victims of truck accidents may sustain serious or catastrophic injuries or lose their lives. If you have lost a loved one in an accident caused by a negligent truck driver, you may be entitled to pursue damages through a wrongful death action.
The Stutzman Law Firm, PLLC, gives compassionate representation and support to families of truck accidents and wrongful death victims during such a difficult period. As a seasoned Mississippi personal injury lawyer, Ronald E. Stutzman, Jr. will help file your wrongful death claims, hold the responsible party accountable, and pursue your rightful financial compensation for your loss. The firm proudly serves clients across Flowood, Clinton, Pearl, and Richland, Mississippi.
Why File a Wrongful Death Claim?
When a person dies in an accident unexpectedly or due to the "negligent, real, or wrongful act" of another person, the decedent's surviving loved ones may be eligible to file a wrongful death claim. Here are some reasons to file a wrongful death action:
To seek financial compensation – including burial and funeral expenses, outstanding medical bills, and lost earning capacity – for their avoidable loss.

To hold the negligent truck driver or at-fault party responsible for their careless or wrongful actions.

To seek rightful justice for their deceased family member and honor the decedent's memory.

To ensure that such unfortunate incident doesn't happen to another person or family.
There is no amount of monetary compensation that will be enough to replace the loss. Nevertheless, their surviving loved ones can get the deserved justice and much-needed financial boost after such a sudden loss.
What Constitutes Wrongful Death in Mississippi?
According to Mississippi law – Mississippi Code Annotated Section 11-7-13 – a wrongful death can be described as "the death of any person or of any unborn quick child" caused by the following:
Any real, wrongful, or negligent act, or omission

Unsafe machinery, way, or appliances

Breach of any warranty of products intended for human consumption
Who Can Be Held Liable in a Truck Accident?
However, a number of different parties may be held liable for a truck accident that results in a wrongful death, depending on the surrounding circumstances or events leading to the incident. These include:
The truck driver

The trucking company

The owner of the truck or trailer

The truck manufacturer or equipment and parts manufacturers

The persons who shipped or loaded the cargo

The maintenance personnel or company

A government agency or private contractor that failed to properly maintain the highway.
A practiced Mississippi truck accident attorney can help determine the at-fault party and help you file your wrongful death claim.
Who Can File a Wrongful Death Claim in Mississippi?
The following individuals may be entitled to file a wrongful death claim in the state of Mississippi:
The personal representative or executor of the decedent's estate.

The surviving spouse of the deceased's person.

The surviving parents, adoptive parents, or children of the decedent.

Any surviving siblings of the decedent.
In addition, the wrongful death action must be brought within three (3) years from the date of the death.
Possible Damages
The following damages may be recovered by filing a wrongful death claim in Mississippi:
Medical related to the decedent's final injury or illness.

Lost income and benefits

Lost earning capacity

Burial and funeral expenses

Decedent's pain and suffering

Lost care, love, counsel, guidance, consortium, or support

Punitive damages as additional punishment for gross negligence or reckless disregard for another person's safety.
A skilled Mississippi wrongful death attorney can guide you through the claims process and help you recover the maximum possible compensation for your unexpected loss.
Compassionate Legal Guidance
Losing a loved one in a negligent truck accident can be painful and overwhelming. Regardless, you don't have to suffer financial liability and challenges all by yourself. Attorney Ronald E. Stutzman, Jr. can support you during these challenging times.
As your lawyer, he can look at the details of your case, assess the magnitude of your loss, and explore your possible legal options to recover damages. In addition, Attorney Ronald E. Stutzman, Jr. will be there to provide for your best interests and help you pursue fair financial compensation to cover outstanding medical bills, burial and funeral expenses, lost wages, loss of consortium, and other available damages.
Contact The Stutzman Law Firm, PLLC, today to schedule an initial consultation with a reliable truck accident lawyer. Attorney Ronald E. Stutzman, Jr. has the compassionate legal counsel, assistance, and dedicated representation you need in your wrongful death claims. The firm proudly serves clients across Flowood, Brandon, Pearl, and Rankin County, Mississippi.