The Do's & Don'ts of Speaking
With an Insurance Adjuster
March 20, 2022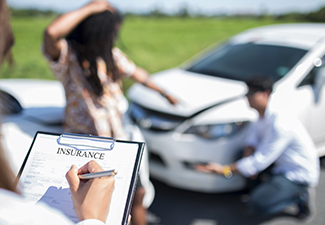 After you've been injured in an auto accident, probably the last thing you want to think about is communicating with an insurance adjuster. But, if you've suffered injuries, you should be prepared to speak with one or more auto insurance adjusters about the accident. It is important to be cautious about what you say to insurance adjusters because car accident victims often unknowingly say things about their accidents and injuries that can later be used against them when they're pursuing compensation for damages.
For critical situations like this, you need an experienced car accident attorney to advocate for you. Ronald E. Stutzman, Jr. knows firsthand just how scary and painful a car accident can be. He is dedicated to fighting on behalf of his clients in Flowood, Brandon, Clinton, Pearl, Richland, and Rankin County, Mississippi. He doesn't want you to go through the stressful and complicated experience of dealing with insurance companies and adjusters alone, which is why The Stutzman Law Firm, PLLC will work hard on your case and advocate for your rights.
The Role of the Insurance Adjuster
Insurance adjusters (also known as "claims adjusters") are on the front lines of the insurance company. Their main role involves evaluating insurance claims, usually by doing the following:
Investigating insurance claims

Gathering documentation (photos, videos, etc.) and witness statements

Determining whether the insurance policy covers the loss claimed

Deciding the appropriate amount the insurance company should pay

Ensuring that claims are not fraudulent

Contacting claimants' doctors or employers to get additional information on questionable claims

Talking with legal counsel about claims when needed

Negotiating settlements

Authorizing payments
Requests for a Statement
In the aftermath of your accident, it's inevitable that you will be contacted by an insurance adjuster. However, under no circumstances are you required to provide a statement to the adjuster. In fact, it's in your best interests to refuse to provide a written or recorded statement. Adjusters are trained to reduce your compensation as much as possible, usually by doing the following:
Using your statement against you

Using it to reduce compensation

Asking contradictory questions to create inconsistency
If you do decide to provide a statement, try to keep the conversation as brief as possible. Also, keep the following in mind:
Ask for the conversation not to be recorded.

Don't admit guilt.

Don't answer questions you don't know the answer to.

Don't volunteer additional information.

Keep the conversation brief.

Don't sign any documents or statements until your attorney reviews them.
Overall, politely saying "no" is your best defense against the insurance adjusters' trickier questions.
What Information Will They Ask Me to Provide?
Again, if you decide to give a statement to the insurance adjuster, it is in your best interests to keep everything as brief and simple as possible. Still, the adjuster is trained to dig and squeeze as much information as possible out of you. You should refuse to provide any information except the essential details of the accident, which include:
Where the accident occurred

When the accident took place

The type of accident

Vehicles involved

Responsible parties

Witness identities
Adjusters may then ask a series of questions covering areas such as:
The extent of the damage to any vehicles involved in the crash

Details about the weather conditions

Whether there were any passengers

Whether drugs or alcohol were involved

Whether you were wearing a seatbelt

Whether the airbags deployed

Whether evasive actions were taken

Details about any injuries sustained

Details about any medical treatment received
As with the other details, it's best to be as general as possible if asked about any of the above.
How an Experienced Car Accident Attorney
Can Help You
Insurance companies are motivated to deny claims because doing so saves them money. From the moment you file a claim, they will work diligently to discount the negligence of their insured and to attribute fault to you or your loved one. Don't let that happen to you. Contact The Stutzman Law Firm, PLLC today to schedule a free consultation. His Flowood, Mississippi, office has helped numerous clients get the compensation they deserve.