I Was Involved in a Hit and Run. Do I Still Have a Case?
Sept. 25, 2023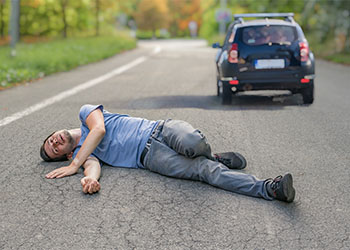 If you've been injured in a hit-and-run accident, you may be feeling overwhelmed – questioning what you should do next. How are you going to collect compensation for your injuries if the driver who caused your accident can't be located? How will this affect your claims process and any conversations with insurance adjusters?
If you've been injured in a hit and run in Mississippi and need answers to these questions, as well as expert advice and support, call personal injury attorney Ronald E. Stutzman, Jr. at The Stutzman Law Firm, PLLC, in Flowood.
Mississippi is a Fault Insurance State
Mississippi follows the "pure comparative negligence" system, meaning that you can sue for damages even if you were partially at fault for an accident. After an investigation, the court will determine each party's amount of fault for the accident and assign a percentage, which will then be deducted from each party's total claimable damages. If you are injured in an accident for which you are 10% at fault and your damages equal $10,000, the total damages you could collect from the other party are derived by deducting 10%, leaving you with $9,000. Conversely, the other person who was 90% at fault can collect damages from you, but they can only collect 10% of their total damages.
However, if you are hit by a driver who then flees and cannot be identified, things get a bit more complicated. You cannot receive compensation from a party who cannot be found or identified, and even if they are found, that person may be uninsured or underinsured — in which case, you have little chance of gaining compensation from a lawsuit against the driver.
Your Options for Filing a Claim After a Hit and Run
Locating the Driver
Your first option would be to find the driver and file a personal injury claim. You can begin the process of trying to find the driver by reporting the accident to the police. (Under Mississippi law, you must call the police if you are involved in a car accident that injures or kills someone or causes $500 or more in property damage.)
It is important that you do not try to pursue the hit-and-run driver. Your safety is more important, and you may cause yourself or others further injury if you try to follow the other driver.
Be sure to call an ambulance if you or anyone else is injured. Getting an initial report of your injuries will be essential when you and your attorney are talking to insurance adjusters later.
Once the police arrive, give them as many details as you can about the other driver. Whether you remember these details or get them from witnesses, tell the authorities as much as you can about the make and model of the car, the license plate number, what the driver looked like, and any other identifying details (such as dents or stickers on the car). Get contact information from any witnesses who will be able to testify that they saw what happened and that the other driver hit you and fled.
If the driver cannot be located, the good news is that certain insurance coverage can help.
Uninsured or Underinsured Motorist Provision
Mississippi does not require that motorists purchase uninsured/underinsured motorist coverage. It is highly recommended, however. Uninsured/underinsured motorist coverage helps in a hit-and-run case on two levels. First, it goes into effect when the other driver cannot be found. It will also go into effect if the other driver is found and they are uninsured or underinsured. Uninsured/underinsured motorist coverage can help pay for economic damages such as car repair bills, medical bills, and lost wages, as well as non-economic damages such as pain and suffering.
In order to make sure that you receive the amount of compensation that you deserve, it is wise to hire a car accident attorney to help you collect evidence and speak to the court (if the driver is found) and insurance adjusters on your behalf. They will be able to present your case convincingly and will work toward securing the payout that is rightfully due to you.
Fight for What You Deserve
Having been injured in a car accident before, Attorney Ronald E. Stutzman, Jr. knows the difficulty of dealing with insurance companies after an accident. Due to his own experience, Attorney Ronald has dedicated himself to helping his clients who find themselves in similar situations. Call The Stutzman Law Firm, PLLC, serving Flowood, Mississippi, as well as Brandon, Clinton, Pearl, Richland, and other areas of Rankin County for a consultation.