How to Know When to Contact
a Personal Injury Attorney
March 23, 2022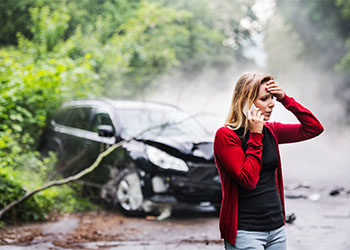 You have been in a car accident in Flowood, Pearl, Brandon, Richland, Clinton, or somewhere in Rankin County, Mississippi. Perhaps your injuries are minor. Maybe you have suffered serious injury or are somewhere in between.
To you, it seems obvious that the insurance company for the other driver should pay you a fair settlement. What you will find out is that insurance companies are not concerned with what is fair for you. They are, however, quite concerned about their profits.
Ronald E. Stutzman, Jr. understands all too well how ferociously an insurance company will fight to not compensate those who suffer damages due to the negligence of their insureds. It happened to him years ago. That is why he is dedicated to helping his personal injury clients get the just compensation they deserve.
What Are Some Common Injuries
Resulting From Car Accidents?
The types of injuries people suffer in auto crashes vary as widely as the people themselves. Nonetheless, there are some injuries that are common in many car accidents.
Soft-tissue injuries, traumatic brain injuries, as well as abrasions and bruises, are common even in crashes that occur at low speeds. The impact of tons of metal jars you, even if your seatbelt, shoulder harness, headrest, and airbags work as they should.
Soft tissue injuries include whiplash injuries and those to your muscles and tendons. Traumatic brain injuries occur when the impact causes the brain to move, impacting the inside of the skull. Cuts are common with shattering glass, and bruising is common when parts of the body strike the dashboard, door, windshield, or steering wheel, or when airbags deploy.
Other injuries common in auto accidents are bone fractures and dislocations, including those in the neck and spine. Kneecaps may be injured upon impact with the dashboard. Foot and ankle fractures, including shattered heels, are common with head-on collisions. Shoulders and collarbones may be separated, and spinal discs may bulge or rupture.
When Should I Contact a
Personal Injury Law Firm?
Our recommendation is that you should always consult an attorney when someone else was at fault or the fault is shared. A solid personal injury attorney will tell you if they think you can handle a claim on your own. Moreover, consultations are generally free, so you have nothing to lose.
There are some other strong reasons why you should contact a lawyer:
Mississippi is an at-fault state for auto insurance. If another driver's negligence caused the crash, they have the responsibility of compensating you for your damages. Mississippi is also a pure comparative fault state so you could be assigned some of the blame. Since your compensation will be reduced by your percentage of fault, you need to reduce that share to the lowest percentage possible or to zero.

If your injuries are serious, the value of your damages will be extremely high. You will need to discover every possible source of insurance coverage or assets you can to compensate you. Your lawyer will know where to look for them.

If you are not aware of all the options you have to pursue a claim or how to pursue one, you will miss some that would benefit you. Your lawyer knows where to look for every available option.

If you are not a knowledgeable and seasoned negotiator with experience working with insurance companies, insurers will take advantage of you at every turn.

If you do not know how to investigate and document compelling evidence of the other driver's negligence, you may find yourself being held at a significantly higher degree of fault than you actually were. Proving negligence is not nearly as black and white as it may appear.
What Questions Should I Ask an Attorney?
The first question you should ask a prospective personal injury attorney is how many cases they have handled with circumstances similar to yours. Don't assume that just because they are a lawyer that they will have a long history of experience with personal injury claims.
Although they cannot divulge personal details about a case, they can give you examples of cases they have settled or verdicts they have received for their clients. Ask them about their record of success.
Ask the lawyer what their fees are and how they handle case expenses. Many attorneys charge a percentage they will earn based on the amount of the gross settlement. For some, the fee will increase if the case goes to trial. That is because preparing a case for trial takes significantly more time.
There will be expenses associated with your claim or lawsuit, such as the cost of obtaining crash reports, medical records, employment records, copies, taking depositions, crash reconstruction, and expert medical or engineering testimony. Most attorneys will front these expenses and await reimbursement from the settlement.
The Stutzman Law Firm, PLLC Can Help
For nearly 20 years, Ronald E. Stutzman, Jr. has been helping personal injury clients like you get the best compensation possible. His law school degree and years of experience aren't the only things that make him successful. His dedication to his clients and his remarkable work ethic garner results. He is just who you want working for you.
Consultations are free, so contact The Stutzman Law Firm, PLLC today to schedule yours.