Dos & Don'ts After an Injury
Nov. 22, 2022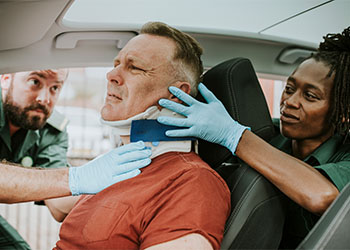 In a single dangerous moment, your life could be changed forever. Another person's reckless actions may leave you with broken bones, severe whiplash, or other injuries that you now have to recover from and symptoms you have to manage on an ongoing basis. What should you do, what should you avoid, and what can you expect after such an accident?
In Mississippi, you have the right to seek financial compensation if you were in an accident. Be aware of what you can do to strengthen your case so you have a better chance of succeeding in your personal injury claim. With the help of a knowledgeable Mississippi personal injury attorney, you can present a strong case to seek compensation.
At The Stutzman Law Firm, PLLC, Ronald E. Stutzman, Jr. personally understands just how difficult it is to recover from a serious car accident and face expensive medical bills. He will bring his perspective and over 15 years of experience practicing Mississippi law to your case. He is dedicated to doing whatever it takes to seek the best outcome for each of his clients. The Stutzman Law Firm, PLLC proudly represents clients in Flowood, Mississippi, as well as Brandon, Clinton, Pearl, Richland, and Rankin County.
Filing a Personal Injury Claim
What should you do if you sustain an injury in an accident? You may file a personal injury claim to seek financial compensation. To do so, you must show that the other party is responsible for your injuries. Keep in mind that there are several actions you will want to avoid to increase your chances of a successful claim:
Don't leave the scene of an accident.
Don't leave the accident scene until you've exchanged information with the other party. Be sure you get everything you need and avoid claims of a hit and run. Collect the other party's name, phone number, address, driver's license number, license plate numbers, and insurance information.
Don't talk about the case.
It may be tempting to talk about the case to your friends, but you should avoid sharing any details until you have spoken with a knowledgeable personal injury attorney. Do not post about the accident on social media.
Don't talk to the insurance adjuster first.
Before you speak with an insurance adjuster, consult with an experienced attorney. They can advise you on what information you should and should not share with the insurance company in order to protect your case.
Don't accept the first deal you're offered.
The insurance company may quickly offer you a settlement amount, but that first amount is often much lower than what you deserve. The first offer might not account for all your future costs such as lost income due to time missed at work and unforeseen medical expenses. Don't accept the first offer.
Don't neglect your injuries.
What if I'm injured but I don't have insurance? Even if you're uninsured or underinsured, you should seek medical attention. A qualified healthcare professional can diagnose your injuries and suggest the appropriate treatment plan. Your medical bills may be covered by the responsible party's insurance policy.
There are also some steps you should take after any kind of injury that can help you move forward:
Do contact a personal injury attorney.
Your recovery, your health, and your financial future—you can't leave these things to chance. A strong legal advocate can help you seek appropriate financial compensation for your injuries.
Do keep records of everything.
Keep copies of everything, from major medical bills down to receipts for over-the-counter medication for your injuries.
Do write down everything you can remember.
Write down an account of what happened leading up to, during, and following the accident while it's fresh in your memory. An accurate account of the accident will help your case.
Do keep every single medical bill.
It is extremely important to keep copies of all your medical bills. It's a necessary part of calculating an appropriate settlement amount. Also, write down all your doctor's visits in your calendar and keep a record of all medical visits related to the accident.
Do record how this is affecting your work.
Take the time to write down how your injuries are affecting your work. Record how much time you have to take off work because of the accident and how that has impacted your paychecks. Also, write down how the accident has affected your daily life and your ability to participate in activities as you normally had before the accident.
Understanding Legal Support
A personal injury attorney can help you in many different ways during this difficult time. Your attorney can help you understand the typical compensation amount for your type of case. They can prepare you for a conversation with the insurance adjuster, or your attorney can negotiate with the insurance company on your behalf. They can represent you during a mediation process or in a court of law. Your attorney can help you build the strongest case possible.
Get the Legal Help You Need
Knowing what to do and what to avoid after an accident is key in building a strong case. It is extremely important to keep all your medical bills and to avoid talking to the insurance adjuster until you have consulted with an attorney. Your financial future may be on the line, and it is important to hold the other party responsible for their actions.
Attorney Ronald E. Stutzman, Jr. is dedicated to seeking the best possible outcome for each of his client's cases. He will evaluate your situation and inform you of all your options—and then he will advise you on the best path to take going forward. The Stutzman Law Firm, PLLC proudly represents clients in Flowood, Brandon, Clinton, Pearl, Richland, and throughout Rankin County. Contact the firm today to schedule a one-on-one consultation.